Are you looking for ways to inspire collaborative innovation in your organization? Your staff has the talent and intelligence, but are they working with the right people? Collaborative innovation involves bringing together ideas that can result in something groundbreaking. It is typically achieved by collaborating with larger organizations that can provide perspective and strategic development. All you need are the people and ideas to make it happen.
According to PwC's Innovation Benchmark Report, executives acknowledged their businesses collaborate with a large set of stakeholders to gain more from their innovation efforts. The report found that 54 percent of the executives who were surveyed struggle to align their innovation and business strategies while 61 percent stated they embrace open innovation to create new ideas.
You can tap into the collective intelligence within your industry and in other fields to turn these ideas into reality. Here are five building blocks to consider.
1. Network with the Right Firms
Networking is one of the strongest tools you can use in business. It brings partners together to make innovation possible.
A young firm can scale quickly when partnered with an established firm whose employees have more business knowledge and capital. An established organization will gain new knowledge about the industry and can act early on innovations provided by the younger firm.
2. Use the Right Tools
The tools you choose when collaborating should allow everyone to strategize and openly share their ideas. Idea management tools such as the IdeaScale platform facilitate collaborative innovation. 
When putting strategies together, answer questions such as:
What are your objectives and goals?
How are they carried out using modern technology?
How does your approach differ from others?
What are the risks?
What will the project cost?
How long will it take to carry out?
3. Remain Flexible in the Partnership
Flexibility allows everyone involved in the partnership to react to varying scenarios that could play out in reality. Before defining any conditions of the partnership, have a clear vision of the goals. This is how two organizations can successfully work together.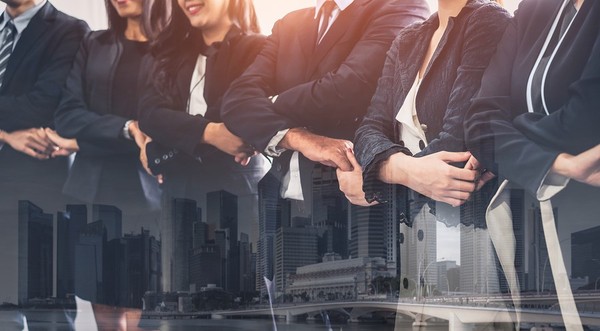 4. Prep Employees on How Collaboration Works
Employees of both firms in the partnership must build trust with one another. When those from established firms are more transparent and can share competitive insights with the younger firm, an important business relationship develops. Employees from the younger firm can also pass on information about newer technology or industry practices to employees of the more established organization.
5. Evaluate the Potential for Risks
Business is risky, but when you add innovative ideas and products to the mix, the possibilities for risk increase. Though there are some risks you probably aren't willing to take, you might want to reconsider those that involve innovation.
According to an article about how innovation helped Fortune 500 companies, approximately 10 percent of businesses lose their slots each year in the Fortune 500 rankings. Taking risks that embrace innovation is one way to remain on that list.
Want to learn more about collaborating with other companies to form great ideas that will shape the future? Try collaborative innovation to create greater business value and returns.