The culture of an organization directly contributes to its innovation success. The most innovative companies recognize the importance of continuous change and growth to remain on top. Research shows 2/3 of these organizations make it one of their top three management priorities
The latest episode of the IdeaScale Nation podcast discusses how one company adopted change that led to a more creative and innovative atmosphere. Sunshine Coast Credit Union is a full-service financial institution serving more than 17,000 members in Vancouver, BC, Canada.
Alex Kostenko is the Director of Strategy and Innovation. She focuses on designing and implementing structures that create a positive culture.
Kostenko's goal is to harvest information that shows the future of innovation. "We want to harness the organization's energy to move in the right direction," says Kostenko.
What is innovation?
Kostenko defines innovation as breaking down barriers. Sometimes, technology is the best tool for making that happen. It's about getting to the root of a problem or something that needs to be done, then doing it differently.
Innovation research reveals 42% of revenue-generating companies have gained more confidence in their innovation efforts over the last year. Employees believe in their organization's ability to create positive change.
A successful innovation strategy supports continuous change. Approach an issue or task with a different mindset for desired outcomes. The result can be an improved process or practice that changes organizational culture.
Create a well-developed innovation strategy to counter inaction with action. Organizational leaders must understand the importance of change before it can occur.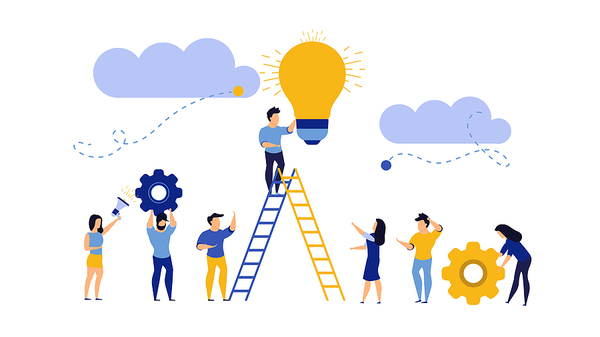 Change the organizational mindset
Kostenko and other leaders at Sunshine Coast Credit Union knew they needed to be ahead of change to continue serving customers. Located in a rural community outside Vancouver, they needed to find a way to keep up with certain changes occurring in larger cities.
In an effort to define the gaps in leadership and best practices that were driving a resistant culture, Sunshine Coast Credit Union engaged with U.S. management consulting firm McKinsey and Company. Together, they created a survey to figure out the health and culture of their organization.
They learned their employees lacked the tools and structure to be innovative. Before the survey, innovation ranked last in management practices.
A new innovation initiative was created to encourage employees to share their ideas. The IdeaScale platform provided the structure and tools needed to track and implement ideas across the entire organization.
Inspire through innovation
As the innovation culture at Sunshine Coast Credit Union grew, the positive changes created by idea sharing inspired employees to ask questions that led to new initiatives. The number of people sharing ideas increased. The engagement was made a priority so everyone could connect with one another.
Employees began connecting with executives and other leaders. Before long, there was a backlog of ideas that needed to be cultivated.
This illustrates the positive culture that is created when employees are given an outlet for discussing ideas and receiving feedback. As connections are increased, the organization becomes a more enriching place to work.