Successful innovation is supported organization-wide. Management and employees need to be on board with strategies that drive change.
A culture of innovation creates the framework for idea sharing and implementation. Positive change occurs when employees are equipped with the right information and tools.
Research shows successful innovation is based on growth. According to statistics, large organizations that invest at least $5 million a year expand due to their willingness to implement new ideas.
What is a culture of innovation?
A culture of innovation should be part of your company's overall culture. It consists of idea-sharing strategies and encourages employees to take part in improving company processes. This leads to new products and a better customer experience.
A culture of innovation should be clearly defined. This ensures everyone understands their roles going forward.
Managers and employees who are clear on company expectations will remain dedicated to achieving company goals. Well-thought-out innovation strategies define these goals and guide teams through the idea implementation process.
How to create a culture of innovation
Prepare employees for the new innovation culture by explaining the new opportunities it will create. Encourage them to engage in idea-sharing activities.
Make innovation a part of everyday business. Promote collaboration so employees can take part in leading innovation efforts and supporting the ideas of co-workers.
Encourage employees to learn new skills. This can lead to greater opportunities for everyone in your organization.
Provide employees with the resources needed to innovate. These can include a dedicated innovation space and idea-sharing tools.
Communicate the innovation strategy across the entire organization. Send emails explaining new processes, then discuss them during team meetings.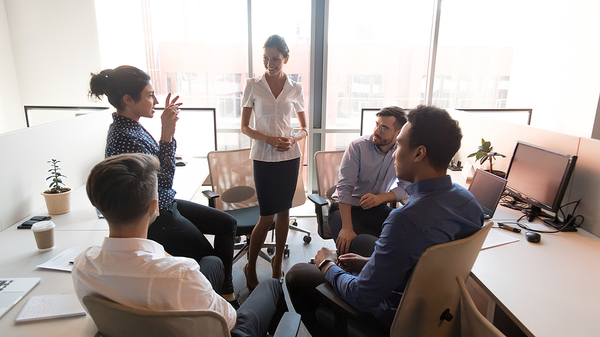 Communication leads to a high performance culture. A recent survey revealed that only 13% of employees feel their company's communication efforts are organization-wide. Placing a stronger focus on this area will result in unified attitudes toward innovation.
Hold workshops centered around idea sharing. This promotes teamwork in a comfortable environment.
Encourage employees to get involved with innovation efforts. Ask for their ideas and feedback on how the new strategy is working.
Define what innovation means for each team. Describe how their ideas and efforts will affect the organization as a whole.
Explain how employees can contribute to innovation. Sometimes people don't act on an idea because their options aren't made clear.
How to sustain a culture of innovation
Sustain a culture of innovation by showing employees the difference their ideas make. Implement positive change across all areas of the organization, and ensure everyone recognizes their role.
Provide incentives for idea sharing. This shows employees their contributions are essential.
Deliver the right tools and resources to the right teams. Specific needs will vary from one team to another, depending on purpose and expertise.
Reach out to customers. Extending your innovation efforts to those you serve can result in new products that target specific segments of your customer base.
Encourage creativity. Hold regular workshops and events that encourage employees to work together to solve a problem.
Include innovation in the regular workday. Employees may not know how or when to fit idea sharing into their schedules. Holding regular sessions dedicated to innovation will stimulate creative thinking in an environment free of distractions.