Combatting COVID-19 calls for change management. It requires obtaining business continuity while prioritizing the needs of your customers and the entire organization.
Uncertain times lead to questions without answers. It's important to recognize leadership and employee sentiment to determine how to provide business continuity.
Impact
The COVID-19 pandemic has significantly impacted people, businesses, and operations. An agile change management approach is needed to overcome the obstacles and come out on top. Coronavirus has spread to more than 200 countries and caused significant economic uncertainty.
The need for prolonged social distancing resulted in employees working from home. This means limited or no physical contact with customers.
Organization leaders have become anxious about their well-being and the state of their businesses. Many customers are searching for ways to conduct business from the safety of their own homes. This prompts a need for business leaders to find new ways of engaging with potential and existing customers to provide products and services.
Businesses have provided responses using various tools and initiatives, so the entire workforce remains engaged. Doing so creates a more agile workforce. Responses include:
Video conferencing software for holding company meetings
Targeted organization-wide meetings to discuss changes in business processes
Multiple ways of virtually connecting with customers to provide services and ongoing support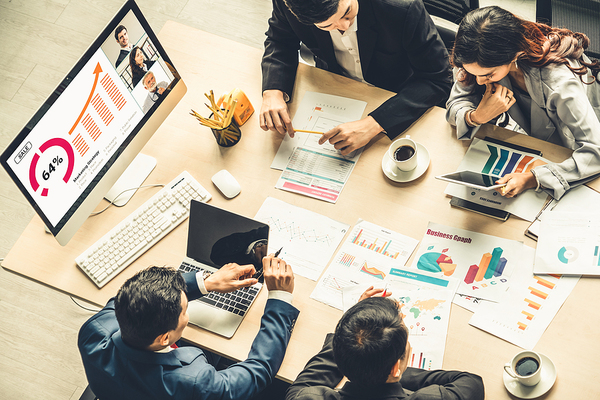 Communication
Remote working can be stressful. Stay connected with your employees to make the transition easier.
Plan formal meetings and informal discussions to answer questions. Remain accessible to employees, so they know their concerns are being addressed.
A clear communication strategy is crucial for keeping all stakeholders informed. It should be consistent and address concerns.
Various tools can be used to communicate with employees regularly. These include:
Phone
Email
Virtual meetings
Communicate with customers through targeted messages via email, social media, and the company website. Encourage them to comment on social media posts and provide feedback via email. This allows you to answer questions and establish an ongoing dialog that keeps them well informed and connected with your business.
Create a Vision
Create a vision. It should include change and continuity.
Research shows change management quality significantly impacts outcomes. When the right techniques are in place, projects are six times more likely to succeed than when they are not properly managed.
Ensure employees the core of your organization will remain the same. Craft a message outlining the change and emphasize stability throughout the process.
Cultivate a Culture of Optimism
Ongoing change includes opportunities and setbacks. As an innovative leader, cultivate a culture of optimism to address both.
Monitor reactions to innovation failures and encourage a growth mindset. Recognize employees who are seeking new opportunities or trying new ways of accomplishing tasks.
Help employees acquire new skills to thrive in the landscape of ongoing innovation. Change management is a process that can result in positive transformation when the right practices are in place.
Want to manage change more effectively in your organization by engaging in idea sharing? Contact us today to request a  demo.