The FDA's Center for Drug Evaluation and Research (CDER) is part of the agency that regulates over-the-counter and prescription drugs, including biologic therapies. To ensure that safe and effective medications are available to the people who need them. 
Five years ago, CDER launched a crowdsourcing program to make better use of its 4,500 employees. And the results have been extremely promising. Recently, Mark Ascione and Kimberly Taylor spoke with IdeaScale for an episode of the IdeaScale Nation podcast on "How to Build a System for Launching Innovation," something with which they have significant experience. Here are some of the key takeaways from the podcast.
Importance of Time-Limited Challenges
Ascione and Taylor emphasized that what works best in the context of CDER is time-limited crowdsourcing challenges as opposed to open-ended initiatives. For their innovation strategy, time-limited challenges work better.
For one thing, they get higher participation rates when the idea submission period is limited to around two weeks. It's easier to maintain momentum and enthusiasm for relatively short, defined time periods. Furthermore, they can target their communications and message for the two-week period (rather than having to do so indefinitely). And they find that people stay engaged better when the challenges are not open-ended. 
This may not be the right approach for other organizations. It's important for each organization to determine which type of innovation challenge works best for its needs at the time.
What Organizations Need for a Successful Innovation Strategy
For organizations interested in developing an innovation strategy, it helps to have a few key components. First and foremost, it's important to have an innovation tool kit, templates, infographics, and case studies to use as teaching tools. It's also important to take the time to train stakeholders on how to use these tools, how other organizations have done so, and what to expect from the tools.
Organizations also need ideas for use cases for crowdsourcing. Maybe crowdsourcing sounds like a good idea, but an organization isn't quite sure how it would fit into its mission. Figuring this out is a big step toward developing an innovation strategy.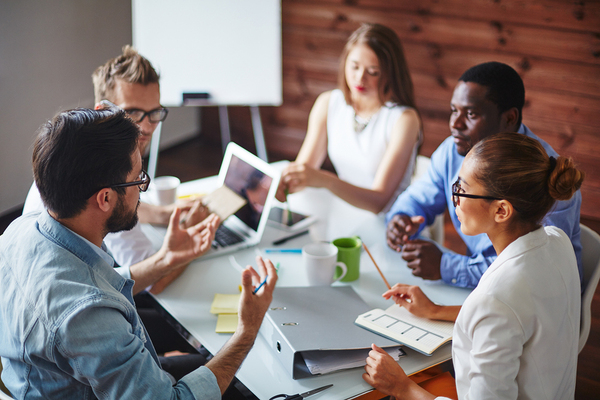 Determining use cases for crowdsourcing can be a major component of developing an innovation strategy.
Finally, Ascione and Taylor emphasize how important it is to have strong executive backing for developing an innovation strategy. Without executive buy-in, it's much harder to implement crowdsourcing and other innovative techniques and to build and maintain momentum.
Where Should Innovation "Live" within an Organization?
One thing Ascione and Taylor are grappling with in the context of the FDA (and something many other organizations grapple with) is where innovation should "live" within an organization. Should there be an Innovation Department? Should it be part of HR, or should it be part of IT, since innovation management is generally tech-based? 
Another possibility is having a team to deliver "Crowdsourcing as a Service" and help leaders know when crowdsourcing innovation is appropriate and help them develop specific initiatives. The right answer to where innovation should reside in an organization will vary from one organization to another.
Some Results from CDER Innovation Challenges
After running over a dozen time-limited innovation crowdsourcing challenges and receiving over 400 ideas, the team at CDER has experienced significant success. They've innovated processes and have saved contractor dollars by providing ideas directly to senior management. They've used innovation to deal with change management. And also have generally improved employee engagement through innovation initiatives. 
The group has achieved astounding participation rates of up to 80 percent through offering incentives, which is particularly challenging for government entities. Rewards of one or more hours of paid time off have worked well as incentives and have been easy and cost-effective to implement. You can find out more by listening to the podcast and downloading the FDA innovation strategy case study. 
Innovation isn't just for startups, tech companies, and creative agencies. It gets outstanding results in all kinds of businesses and organizations, including government organizations.