Brainstorming is an important part of innovation. This initial process of gathering information often leads to idea generation. Companies need a way to increase growth on an ongoing basis. One study revealed 42% of organizations that are fast innovators are also strong game-changers. Regularly brainstorming directly contributes to how you innovate. Whiteboards are often used to brainstorm ideas, but there are other Brainstorming Tools to consider. This is especially relevant if your sessions are virtual. Here is a list of tools your organization can use to facilitate idea creation.
Document Collaboration
Document collaboration is a great way to brainstorm ideas. Start by creating a document, then invite others to share their ideas.
Send the document via email so people can brainstorm on their own, then come together to discuss the ideas. Use a collaboration platform for sharing in real-time.
One example of this is Google Docs. This tool is free and gives you access to other tools you can use to collaborate across the board.
Online Whiteboard
Use an online whiteboard for idea creation. This is a virtual substitution for a physical one.
Online whiteboards enable you to post virtual notes, then arrange them into categories. This is a great way to see ideas in different formations.
Some of these online whiteboards are free, while others come at a cost. Each will include different features. 
Solo Mind Mapping
The technique of mind mapping helps you visually organize information. It enables you to transfer ideas from inside your head to paper for further development. 
Use intuitive connections to organize thoughts. Seeing those ideas on paper helps you identify gaps before you share them with other people.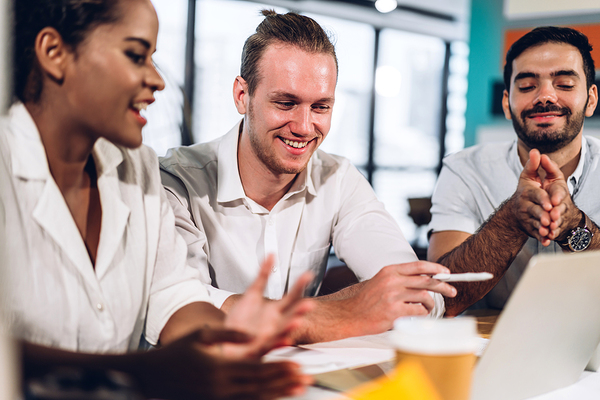 Mind Mapping App
There are a variety of mind-mapping apps available. They enable you to create diagrams for presenting ideas. These apps provide a powerful platform for developing an idea from start to finish.
Coggle is one example of a mind-mapping app. This online mind mapper works in desktop or mobile browsers and offers many useful features.
Log into Coggle using your Google account. Create colorful diagrams that illustrate your ideas. The free version provides:
Three private diagrams
Unlimited public diagrams
Over 1,600 uniquely designed icons
Unlimited uploading of images
Other versions are available for a nominal monthly fee. These include advanced features such as:
Chat history
The ability to upload high-resolution images
Collaboration tools
Use this and other similar mind-mapping tools to hold company-wide brainstorming sessions. Create ongoing projects that lead to multiple innovations.
Web-Based Mind Mapping App
Web-based mind-mapping apps are easy to use and can be accessed from anywhere. This increases your ability to collaborate with others.
You don't have to worry about complicated installations. Sign in, and you're ready to go. Since the app is web-based, you can access it on multiple devices whenever you want.
MindMeister is a web-based app that is feature-rich and easy to use. It includes templates for categories such as:
Entertainment
Education
Business
Technology
Productivity
Brainstorm, plan projects, and organize ideas all in one place.
Innovation is imminent. It moves your organization forward and helps shape your future. Research shows 43% of business execs believe it is necessary to stay ahead of the competition. Use these brainstorming tools to boost productivity and increase idea creation.
Are you looking for a versatile brainstorming tool to promote global idea-sharing? Contact us today for the Innovation Starter Kit.