Did you know IdeaScale has a Teams integration that makes it simple to submit ideas straight from your chat? Here's how it works with Idea-Sharing Process. Over the past year-and-a-half, both due to necessity and the more natural process of remote work becoming more popular, Microsoft Teams has taken center stage as the collaboration software of choice. And IdeaScale has developed an integration that makes it even more useful and effective—especially for brainstorming sessions, innovation committees, and open innovation initiatives.
How It Works
When you install the integration, submitting an idea is simple. And if you've used our Slack integration, you may already be familiar with the process. So let's say you type out something that makes you think, "I should share this idea."
Simply go to the message's upper right-hand corner, where the reaction emojis live, and click on the three dots. This will pop open the menu, and under More Actions, you'll see "Submit an Idea."
Select that, and it'll generate a reply as a conversation thread. Choose a campaign, add a title, and revise your text if it needs any tweaks or additions for clarity. Then, click the Submit button. The integration then automatically submits the position and includes a link in the chat for you to check in and edit.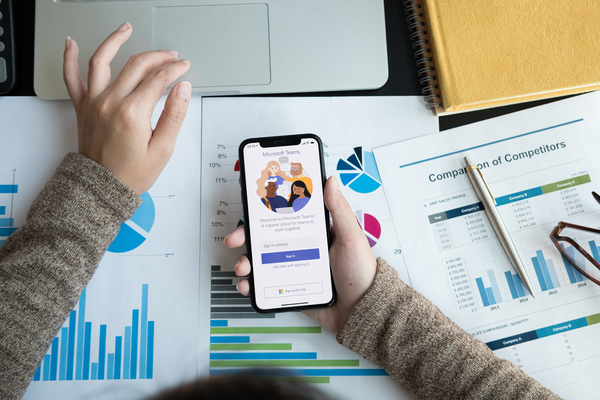 Why Teams?
At IdeaScale, we've been focused on collaboration software such as Teams and Slack from the beginning. It has some key advantages over traditional approaches. It keeps better documentation and makes it easier to keep track of who thought of what. And it's only improved since we started.
Collaboration software is great for innovation because it brings people together from across huge distances with minimal investment in time, energy, and resources. Even in the early days, being able to start a video call and speak with people in your organization has been a gift to innovation committees and helps to keep ideas moving forward.
Teams add other features that are useful as well. These include recording functions that work with Microsoft Stream to automatically transcribe video meetings and the ability to back up and share conversations. That's made it easy for everyone to just let the ideas flow without worrying about remembering them later.
Still, we found that when we came up with an idea in chat, we still have to either search for it, which depending on chat volume, can mean a lot of scrolling back or copying and pasting it into another chat or email. So we started developing this integration to take the friction out of the process. Once you think of it, you can get it on the platform with just a few clicks and then return later to revise it, add feedback, and keep the process moving.
Summary
Our integration makes it easier for any meeting to become an ideation session. By having it present in the course of everyday business, you're able to grab the ideas that come up but may never otherwise be submitted. When it's easier to ideate, submit, and track, you're going to see more engagement. By tying into the software your team uses every day, we're making it just that bit easier.
To learn more about IdeaScale's solutions, schedule now!