Rob Hoehn is the co-founder and CEO of IdeaScale, maker of world-class cloud-based innovation software. From his background in crowdsourcing software as part of the open government initiative, Rob and co-founder Vivek Bhaskaran founded IdeaScale, which was promptly adopted by 23 federal agencies. From there, IdeaScale expanded to serve many more government agencies as well as private enterprises. Ultimately IdeaScale is becoming the world's largest open innovation software platform.
Rob was recently interviewed by SuperbCrew, the business news website that focuses on innovative companies. And also strives to connect these companies with business journalists to tell their stories. Here are some highlights from the interview.
Fourth Industrial Revolution Has Accelerated the Pace of Change
Many business and traditional news publications have discussed the Fourth Industrial Revolution that is currently taking place. It is fundamentally changing how we live and work and is powered by the extraordinary technological advances that have taken place in recent years. 
To keep pace, Rob says, organizations must understand that the "rules" for doing business have changed. More organizations are creating innovation departments designed specifically to move fast and be efficient. "They want to organize their new ideas, find advocates to help them explore and take action on them," he says. Not only must they ensure that outstanding innovations are adopted widely. But they must also be ready to drop what's not working just as quickly.
Identifying and Filling in "Blind Spots"
Rob tells SuperbCrew that he comes from a market research background, and one thing he noticed was that while marketing researchers were able to use surveys to get answers to questions they knew to ask, they wondered about all the potential in the questions they didn't necessarily think to ask. 
In other words, he says, "that organizations wanted real-time information (both quantitative and qualitative) in their blind spots." His response was to develop a process for launching ideation communities where people could share new ideas, and where decision-makers could validate and take action on the best of those ideas.
Ultimately, Rob says, the mission shifted toward making it easier for organizations and individuals to operate innovatively by creating transparent software solution spaces for solving problems and collaborating.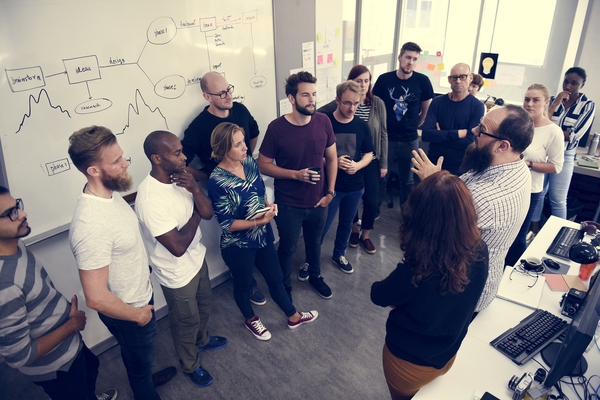 A Platform for Innovation Management
The result was IdeaScale, a cloud-based software platform that empowers organizations to:
Launch innovation communities and control access to them
Decide which problems to address
Invite people to the communities
Share ideas
Share feedback and comments and enable voting
Refine and prioritize ideas
Prototype, test, and deliver innovations
The platform was designed to be transparent, trackable, and secure, as well as highly customizable so that organizations could manage innovation internally or in collaboration with outside partners. It's precisely the kind of innovation management that today's new innovation departments need to be productive and efficient. 
With IdeaScale, organizations can run crowdsourcing campaigns with employees, partners, customers, or members of the general public. When companies have a problem they need to solve, or when they spot a trend they want to explore through crowdsourcing, IdeaScale gives them innovation management tools. These tools ensure the best ideas bubble up to the top and are followed through while ensuring that no good ideas fall through the cracks. 
Since IdeaScale is an innovation management platform, it doesn't have to be tied to a single project, but can continually work to bring innovations to fruition, since innovation never stops. If you'd like to learn more, contact us.