There's nothing more important to innovation than an engaged, thoughtful workforce. Yet bringing your team out of their box of day-to-day tasks and larger projects to focus on innovation can feel daunting. Try these methods to break the box and get them to think about innovation on a deeper level and incorporate it into what they do at work.
Tips to Improve Employee Engagement
Lead by example
Everyone looks to the top to understand what's expected of them, so engaging with, thinking about, and discussing innovation will encourage them to do the same.
Set clear goals and ensure everyone on the team knows what they are
These can be practical, like increasing business by a set percentage, or they can be looking out toward the horizon. Setting goals, and making sure everyone knows what they're working toward, helps people coordinate and think about their larger aims.
Give everyone an innovation toolkit to use
Innovation can happen spontaneously, of course, but toolkits will help to encourage creativity and channel it effectively. A toolkit also offers a baseline for different teams to work together toward a goal or to overcome a challenge.
Have a transparent innovation process
If somebody has an idea, look at where it goes, who receives it, and what's done with it, and focus on ways to make this process more transparent. If people know where their ideas go, they're more likely to volunteer them.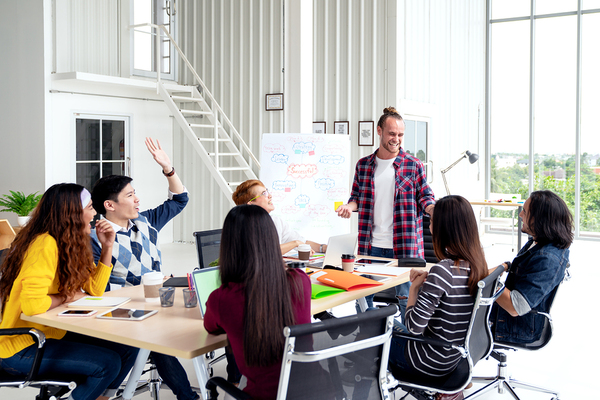 Encourage mentoring across your organization
Whether it's a formal program or an informal approach, mentoring will encourage more sharing, communication, and creativity. It also fosters one-on-one communication and individual attention that encourages your team to open up and let their creative juices flow.
Create autonomy at certain scales
If somebody in a department has an idea that will only affect that department, then the department should be able to refine and implement it with only minor feedback from outsiders. That said, be sure to use successful results as examples for other departments, and be sure the ideas themselves are visible outside the department also. What may seem only applicable to one department may work for the entire organization.
Seek and destroy silos
It's not uncommon for certain departments to never speak with each other not out of animosity or ignorance, but a simple lack of need to do so. Even when they do interact, it can be in a very formal and rigid structure. Bust these silos open by creating ways for departments to interact socially and consult with each other on ideas, such as drawing innovation committees from disparate departments.
Celebrate effort, not results
Even if an idea doesn't fully pan out, the effort put into it should be honored. Keep in mind, just because an idea doesn't work out in a specific context, or for a specific problem, doesn't mean it won't work with others.
Building innovation in your organization starts with having engaged, thoughtful teams, and it'll be an ongoing process. Once you get the tools in place, you'll find everyone can, and does, participate in building a better organization. To learn more about an innovation management platform to help, request a demo.