Our Award Winning Platform Features
IdeaScale's qualitative research solution supports organizations at every stage of the innovation lifecycle.
Research Response Collection
Invite and collect responses, conduct focus groups and interviews, and collect opinions from your research group. Invite colleagues for peer review, assign roles and conduct your research in a secure, customized, and real-time qualitative research portal. Even more, collect key ideas and conclusions into a centralized repository to drive future research topics and cycles.
Easy onboarding and response collection
Controlled entry
Multimedia response collection support
Social-media integrations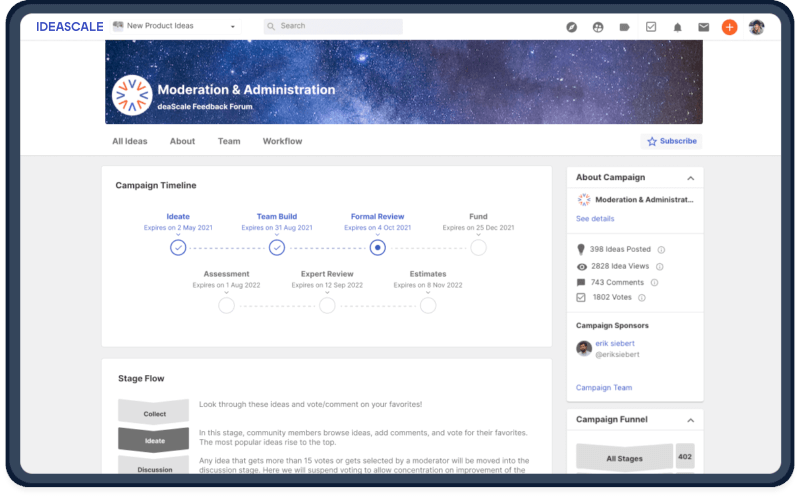 Research Response Evaluation
Evaluate and curate from your pool of responses to derive the most actionable insights and ideas. Automatically rout conclusions for verification, peer-reviewing, and evaluation stages.
Research response portfolio management
Identify linked/ connected feedback
Understand the research response inputs and research result outputs of your organization. Identify opportunities for improvement and gain better perspectives on your entire qualitative research portfolio.
Reporting & analytics
First-in-class PowerBI & Tableau integration
Activity trends
Integrations
IdeaScale is a purpose-built tool for connecting your qualitative research inputs to your innovation outputs. Use IdeaScale to capture, analyze and prioritize customer feedback.
IdeaScale works with the systems you already use.
Enjoy seamless integration with Twitter, Facebook, LinkedIn, Microsoft Teams, Slack, Intercom and more!
Hear Directly From Our Customers!