Our Award Winning Platform Features
IdeaScale's employee feedback solution supports organizations at every stage of the innovation lifecycle.
Employee Feedback Collection
Find out what matters most to your employees and derive actionable insights. Even more, collect employee ideas into a centralized repository to drive the future of your innovation pipeline. Invite everyone to share, validate, and build on one another's inspiration.
Feedback collection
Idea submission
Multimedia attachments
Social integrations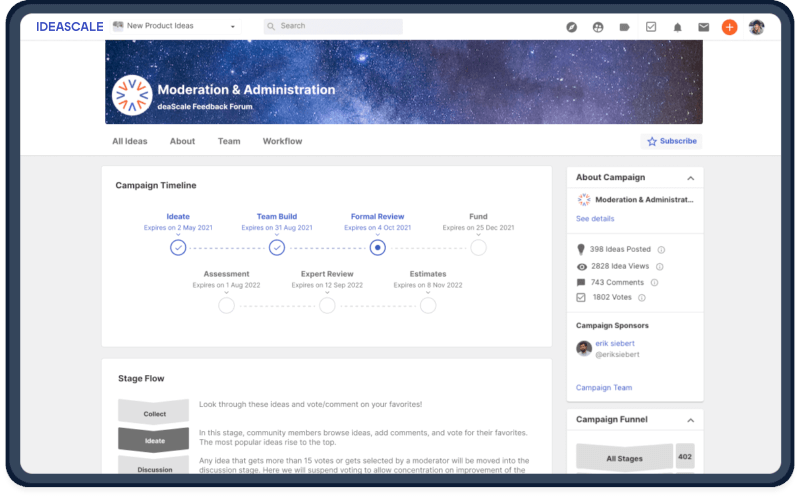 Feedback & Idea Evaluation
Select the most actionable feedback that will create the most positive impact for employees and customers. Automatically rout ideas for verification and feasibility tests by key stakeholders and create a positive and innovative work culture.
Feedback and idea routing
Idea portfolio management
Linked ideas
Employee Experience Planning
Collect feedback from various stages of the employee journey- from onboarding to exit. Use the collected employee feedback and ideas to create an amicable, productive and inspiring employee experience that reduces attrition and fosters a culture of co-learning and innovation.
Employee feedback across the journey
Cost & value estimation of new programs
Proposal builder
Prototype and test your conclusions and turn them into solutions that will drive employee satisfaction and better idea generation. Report your results to the entire organization.
Custom staging for testing conclusions
Configurable gating for controlled entry
Multiple app-integration
Employee-Generated Feedback
Embed feedback and idea collection throughout an organization. Make it easy for any employee, and from anywhere, to launch a feedback campaign on an idea, self-assessment, peer review and much more.
Idea performance benchmarks
Custom role settings for employee community management
API access
Integrations
IdeaScale is a purpose-built tool for connecting your employee feedback inputs to your innovation outputs. Use IdeaScale to capture, analyze and prioritize customer feedback.
IdeaScale works with the systems you already use.
Enjoy seamless integration with Twitter, Facebook, LinkedIn, Microsoft Teams, Slack, Intercom and more!
Hear Directly From Our Customers!