What will shake up the world this year?
What's next in technology? That's a tricky question for everyone from consumers to businesses, and no matter what industry you're in, shifts in technology and design can and will radically change everything from how work gets done to how you manage your information. Here's what you need to know about technology trends for 2017.
Cloud Networks
Yes, "the cloud" has been a big, big consumer buzzword in the last few years, but the cloud as a business tool has been a work in progress. But, as workplaces become more virtual and remote, and work/life balance becomes more and more central to keeping employees, enterprise cloud systems will increasingly be standard across most industries.
Security
After decades of raising the alarm, cyber security experts have finally found themselves validated. They just wish it didn't take dozens of high-profile data leaks, system breaches, and other disasters to make it happen. Cybercrime has exploded, thanks in part to the high profile it played in 2016's election cycle, and that has finally put security on everyone's mind. Expect more encryption, more complex password systems, and other tools that will keep your data safe, and might even be a requirement to secure contracts.
Software-Defined Networking
Software-defined networking, also known as SDN, is a new approach to how your network functions. Traditional hardware networks are hierarchies of Ethernet switches in a tier structure, or, in other words, your network is defined by hardware. That's fine if your network is entirely computers plugged into Ethernet boards, but how many WiFi networks, smartphone plans, and other methods of connection does your business use now? Using software to operate your network will mean more secure, flexible, and faster connections.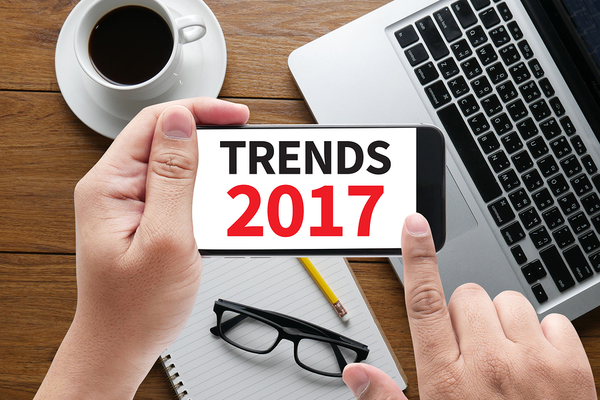 What will be changing 2017 as it unfolds?
Machine Learning, Cognitive Systems, And Artificial Intelligence
It's important to sort these concepts out because while they belong to the same category, their precise definitions are very different things. Machine learning is, essentially, a computer learning by doing; it tries a task, it's told what it did right and what it did wrong, and it repeats the task again. Over time, it does the job better, just like us. Cognitive systems allow the software to rewrite aspects of itself to do the job better. At the moment, artificial intelligence is the "customer-facing" end of this, from a business perspective, where you can ask a computer to do a job, and it just takes care of it.
It's important to note that these three things work together, and thus the limits on one are limits on the others. We're not going to have thinking computers tomorrow, but we will have machines better able to take rote, time-consuming tasks off our hands so we can focus on the more challenging parts of our jobs. You should look closely at this triangle of tech and work out how it will best benefit your business, short- and long-term, and keep in mind that for all the hype, it's quite literally always a work in progress.
Remember, this is just a rough road map. Technology moves quickly, and in some industries, what's a minor shift elsewhere can be an earthquake. So to always stay on top of innovation, no matter what industry you're in, join the IdeaScale community. You can also download our disruptive innovation infographic for more information.